I will write a bespoke proposal for each project, usually after a phone and/or email conversation. The proposal will take account of all variables such as location, theme, size, participants, etc. and can include a range of options to allow for budgets, dates or other factors.
Mosaic projects can be for inside or outside and include wall murals, floor murals, seating/benches and human sundials (see also project ideas & prices and Gallery).
Project stages:
Sketch/preliminary stage before I first come in – working up ideas and themes and gathering as many sketches as possible
Design stage where I work with a small group to incorporate sketches into a final design (wall murals) OR choose designs to be art of the composite finished piece (floor murals and sundials)
Mosaic workshop: I work with groups to create a completed section that is suitable for their age /  ability
Grout workshop: I work with a small group to grout, wash and finally polish the piece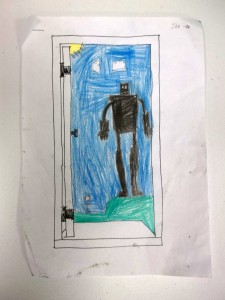 Mosaic Materials
Wall murals: 18mm marine ply to BS1088 suitable for outside and inside, the back and sides having 5 coats of varnish and a plastic trim added.
Floor murals and Human Sundials: Concrete paving slabs, in a variety of sizes and shapes
Tiles: swimming pool tiles which are suitable for outside, slightly thicker than normal tiles and come in a wide range of colours. Suitable for skin tones and school jumper colours. Tile adhesive (cement) and grout are always external grade and usually grey in colour.
Installation:
Wall Murals and signs: gaps are left in the murals allowing screws to be driven into the wall through the grout & ply.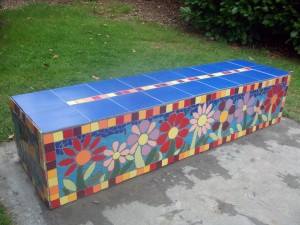 Floor murals & human sundials: laid as normal slabs.
Seating: mosaiced in situ with the seating construction carried out prior to my workshops.